BREAKFAST SPECIALS
Swedish Breakfast Sampler* $12.50
One Swedish Pancake, One Swedish Meatball, Swedish Potato Sausage and One Egg (Any Style)
French Toast Fantasy $10.95
Mascarpone-Filled Cinnamon Rolls, Battered, Grilled and Topped with Granola and Fresh Seasonal Berries
Monte Cristo Breakfast* $11.75
Two Pieces of Our Homemade French Toast Topped with a Slice of Ham and Scrambled Eggs with Swiss Cheese, Served with a Side of Imported Lingonberries
Bacon Cheddar Potato Pancakes $10.75
Three Potato Filled Pancakes with Cheddar Cheese and Bacon Grilled Right Inside, Topped with Fresh Dill and Sour Cream
Ann's Darling $9.75
Hot Oatmeal with Rice Porridge and Granola Topped with Dried Apricots, Raisins, Cranberries and Pecans
Lumberjack Wrap* $10.50
Homemade Hash Browns in a Tortilla with Scrambled Eggs, Bacon, Cheddar and Swiss Cheeses
Turkey Gobbler Wrap* $11.50
Turkey, Spinach and Feta Cheese with Scrambled Egg Whites in a Whole Wheat Tortilla
Bagel Breakfast* $10.95
Plain or Multi-Grain Bagel Filled with Fluffy Scrambled Eggs, Cheddar Cheese and Your Choice of Bacon, Sausage or Ham
*Choice of Two Sides
BREAKFAST SPECIALS ONLY AVAILABLE AT BROADWAY CAFÉ
Banana Pecan French Toast $10.25
Grilled Bananas Drizzled with Caramel and Surrounded with Fresh Berries, Served on Top of Our Pecan Encrusted French Toast
Two Egg Special $9.75
Two Eggs with Your Choice of Corned Beef Hash or Turkey Sausage, Served with Your Choice of Two Sides
SIDES
2 Cinnamon Rolls
1 Sweet Muffin
2 Biscuits and Honey
Toast and Jelly
Sliced Tomatoes
Apple Sauce
Seasonal Fresh Fruit Cup
Hash Browns (Add Cheese for $.50)
Low Fat Cottage Cheese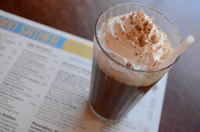 SPECIALTY DRINKS
Fresh Squeezed Strawberry, Banana and Orange Juice $3.95
Fresh Lemonade $3.25
Arnold Palmer $2.75
Lemonade and Iced Tea (One Refill)
Hot Chocolate $3.25
Hot Swedish Coffee $3.25
LUNCH SPECIALS
Pork Tenderloin Sandwich $8.95 (not available at Broadway Café)
Soup and Half a Cold Sandwich $9.50
Vegetarian Chili and Half a Cold Sandwich $10.50
Spinach Salad $10.50
Your Choice of Bacon or Sun-Dried Tomatoes
Turkey Club $9.95
Fried Catfish Sandwich** $10.50
Deluxe Garden Salad $7.95
Add Chicken Salad, Tuna Salad or Sliced Chicken Breast for $3.00
Add Soup or Salad to Any Lunch for Only $2.00
**Not available at our Granville location.
LUNCH SPECIALS ONLY AVAILABLE AT GRANVILLE
Beef Steak $12.25
Tenderloin Smothered in Grilled Mushrooms and Onions
Chopped Beef Steak $12.25
Topped with Grilled Onions and Mushrooms, Gravy Optional
Please be advised that there is a $1.75 charge for any split order.
Ann Sather is BYOB. We have all the fixings for Bloody Marys and Mimosas.
Prices subject to change without notice.

Web Design by MS Communication Design